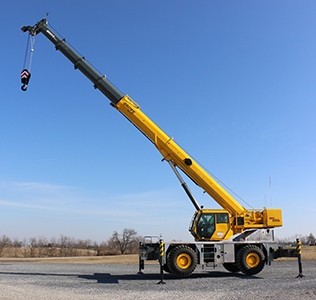 Manitowoc Cranes is pleased to introduce the NEW Grove GRT655 and GRT655L, 55 U.S. ton rough terrain cranes. These two models were designed with customer-focused features, reliability and performance that provides quick return on investment. Both machines have exceptional load charts against other cranes in the 50-ton class. The Grove GRT655 is equipped with a 35 ft. – 114 ft. four-section main boom and has a tip height of 170 ft. The Grove GRT655L is equipped with a 35 ft. -141 ft. five-section main boom and has a tip height of 196 ft. An optional 26 ft. – 45 ft. boom extension is available on both models.
 
The new rough terrain cranes are equipped with longer boom options compared to their 50-ton class predecessors, increasing capacity, reach and tip height. They also feature the next generation of Grove's modular formed boom technology. The use of large, easy-access, grease-less wear pads provide superior boom alignment when telescoping and allow an excellent transition of weights between sections. A compact footprint and four modes of steering increase versatility and maneuverability around the jobsite.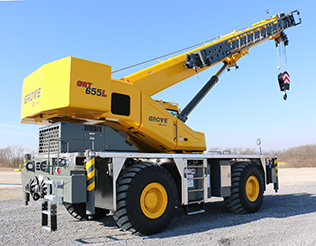 Additionally, the machines are equipped with the Crane Control System (CCS) hardware and software to integrate operations into one easy and quick system for more efficient operation. Other features of the CCS system, used across many of Manitowoc's cranes, include an ECO function that has been designed to reduce fuel consumption and engine noise, as well as a Working Range Limiter that benefits operators by delivering real-time lift parameters that are easily read onscreen.
The GRT655/GRT655L is the only 55 U.S. ton rough-terrain crane on the market with a 20-degree tilting cab, offering operators maximum comfort and convenience. Other significant cab improvements include an updated heating and cooling system and an improved door design that provides 3.25 inches of additional width for improved ingress and egress of the cab when the door is opened.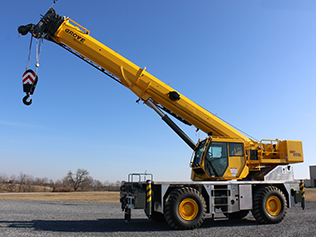 Some of the outstanding features of the GRT655 / GRT655L include:
- Manitowoc Crane Control System (CCS) – Offers a user-friendly interface, two full graphic displays, ergonomic controls and a jog dial for easier navigation and data input.
- Greaseless next generation modular, formed full-power four or five-section boom
- Outstanding versatility and durability – designed for the worldwide market with Tier 4 final and Tier 3 options, three position inverted outrigger jacks and four wheel drive with 4 steering modes.
- Best-in-class load charts with optimal boom and jib combinations.
Contact Shawmut's Sales Department for more information.
View Grove GRT655 / GRT655L Flyer.