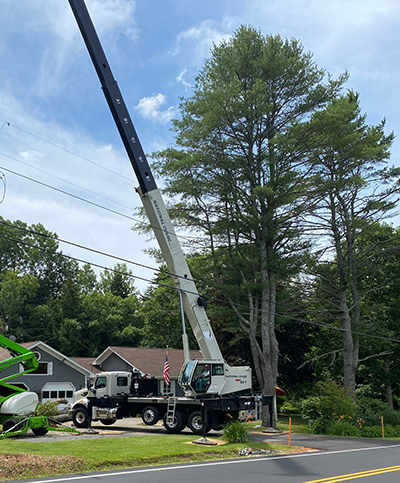 Shawmut is excited to introduce a new short configuration National NBT45127-1 boom truck developed as a collaboration between Shawmut and National Cranes after input directly from customers the fast-growing tree industry. This new configuration combines the reliability and strength of the popular National NBT45127-1 with a new innovative mounting design to meet the demand.
The new NBT45127-1 short configuration reduces the wheel base from 279" to 256", increasing maneuverability and flexibility of the machine in tight spaces. The reduction in the length of the wheel base is achieved by relocating the hydraulic tank from the frame rail and mounting it on the deck, freeing up 24" of previously wasted space between the truck's back of cab and the crane torsion box.
This new short configuration crane is mounted on the new, sleek Peterbilt 567 chassis equipped with the trusted Cummins X15 diesel engine and the dependable Allison 4500RDS automatic transmission. The truck's safety options allow for class-leading visibility and unmatched operator comfort and ease of use. These options include Peterbilt's SmartNAV navigation system and a set of three cameras that are integrated and displayed directly through the navigation system. The cameras are installed on the driver's side, passenger's side and on the rear of the truck for increased back-up visibility.
These new NBT45127-1 short configuration units are available with or without the internal boom length cable, giving options to customers in the industry depending on their specific needs.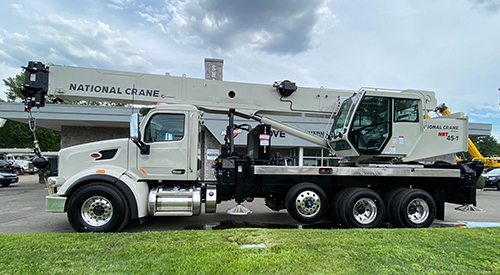 This is the 45-ton boom truck that tree industry customers have been asking for, and units are now available in Shawmut Equipment's inventory.
In addition to the new National NBT45127-1 short configuration machine, the new Grove GMK3060L, equipped with an impressive 157' of main boom, provides one of the strongest load charts available for the tree industry. Along with the long boom and powerful lifting performance, the GMK3060L offers many other class leading features.   
Please contact Shawmut Equipment's Sales Group for more information.