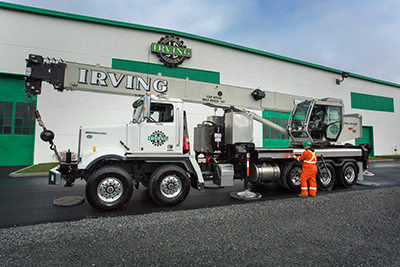 •    Irving Equipment's new National Crane NBT45 racked up a significant number of hours in its first few months.
•    The NBT45's unique chassis configuration is easy to road and travels as a single unit.
•    This latest delivery is the 14th National Crane for Irving Equipment, all of which were supplied by Shawmut Equipment.
Irving Equipment has taken delivery of a customized National Crane NBT45 to strengthen its product offering and provide unprecedented reach and efficiency to its customers in Canada's Maritime Provinces.
The Saint John, New Brunswick, Canada-based company acquired the 45 USt boom truck in September of 2016. Since that time, Irving has used the crane on a variety of jobs that would have otherwise called for a hydraulic, truck-mounted crane.
Victor Murty, operations manager for Irving Equipment, said that the NBT45 has enabled the company to offer an alternative lifting option to its customers.
"When we took a close look at our fleet, we realized we had a service gap that we needed to fill," he said. "A lot of the jobs we do involve high-reach, low-capacity lifts. We would usually use a hydraulic, truck-mounted crane or an all-terrain crane for these jobs, both of which require a separate truck to haul extra counterweight. The NBT45 gives us the reach we need along with added mobility to get more work done for our customers in less time."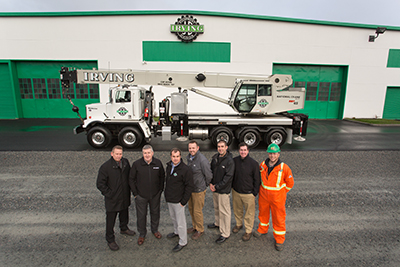 Equipped with 142 ft of main boom, Irving's custom-built NBT45 is currently the longest-reaching crane on a commercial truck chassis working in Canada's Maritime Provinces. The configuration, build and delivery of the crane resulted from a collaboration between Irving Equipment; Manitowoc Cranes; Manchester, Connecticut-based Shawmut Equipment; and Universal Truck and Trailer, an affiliate of J.D. Irving based in Dieppe, New Brunswick, Canada. All four companies worked together to deliver an innovative lifting solution that would work in compliance with the Canadian Department of Transportation.
 
"This boom truck is not a typical design compared with other models found in this area," Murty explained. "It's a tandem steer with three axles in the back as opposed to a single steer with a cluster in the back—the pusher axle is in the front of the rear axle instead of behind, as is usually the case in other provinces or states. We purchased the chassis from Universal Truck and Trailer and sent it to Manitowoc for the custom assembly. It was a lot of time and effort, but well worth it to be able to give our customers such an innovative, cost-effective lift solution."