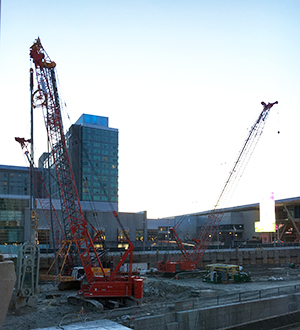 The Slurry Wall division of Hub Foundation, Boston-based drilling company, selected three Manitowoc lattice boom crawler cranes for their recent foundation job in Boston's Seaport district, contributing to the fast development of the area.
The company was contracted to construct the foundation load bearing elements (LBEs) at the soon-to-be Omni Boston Seaport Hotel, located across the street from the Boston Convention and Exhibition Center. Once completed, the hotel will be the fourth largest hotel in Boston. The job consisted of 38 Load Bearing Elements 36 inches wide by 9.25 feet long that varied in depth between 90 feet and 170 feet.
The job required three Manitowoc cranes, one Manitowoc 12000-1, a 120 ton crawler crane, and two Manitowoc MLC165s, 182 ton crawler cranes. The 12000-1 and one MLC165 worked as excavating cranes with mechanical cable operated clamshells, capitalizing on the strong load charts and durability of the machines. The machines were set up to dig the overburden to the top of the rock, then a hydromill excavated the rock to the final depth. Rebar cages between 40 feet and 165 feet in length were set inside the excavation before concreting.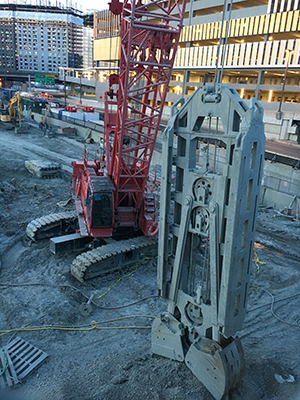 The second Manitowoc MLC165 was used as a service crane, utilizing the machine's versatility and jobsite maneuverability.
The fast assembly and disassembly of the machines enabled the company to quickly and efficiently complete their part of the project. In just 10 weeks, the foundation was set and the contractor could continue onto the next stage of the construction project. The project is expected to be completed in late 2020 or early 2021.
Hub Foundation Co., Inc. is a family-owned and operated full-service drilling company serving the industry since 1966. In 2017, they added a slurry wall division to this operation securing the cooperation of staff with over 30 years of experience in the slurry wall industry. Hub uses cutting-edge drilling technology, state-of-the-art equipment, and custom tooling to offer general contractors a versatile and economical solution to even the most challenging jobs.