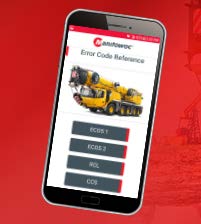 Manitowoc is pleased to announce the release of a FREE smartphone app for iOS and Android devices to help crane operators and owners interpret the diagnostic codes generated by a crane's operating system. Manitowoc is the first manufacturer in the crane industry to release an app of this kind.
App Benefits:
The Manitowoc Diagnostic Code App allows users to key in the error code displayed by the crane and a description of the issue is displayed to quickly assist in troubleshooting and begin working on a solution immediately. The application currently supports diagnostic codes on all Manitowoc- and Grove-branded cranes running Manitowoc's Crane Control System (CCS) and Grove GMK models running the ECOS1 or ECOS2 systems.
More Information from Manitowoc:
In the past, when cranes had technical issues, Manitowoc customers had no way to interpret the diagnostic codes that would appear on the main display of the crane's cab. Specialized technicians would have to be called to the job site with proprietary equipment, and any time spent waiting affected the project schedule. Now, with this freely available smartphone app that instantly tells users what codes mean, crane owners can begin working on solutions immediately, boosting their uptime.
"We're entering into a new era of crane operation where we can harness the power of mobile devices and Manitowoc wants to lead the way," said John Alexander, director of all-terrain crane service, mobile training and telematics at Manitowoc. "By accessing a cloud database right from their smartphones, companies can quickly get valuable diagnostic information to keep their cranes up and running."
The first version of the app will address diagnostic codes on all Grove- and Manitowoc-branded cranes that run on Manitowoc's Crane Control System (CCS), as well as all-terrain (GMK) models that have ECOS 1 or ECOS 2 installed. National Crane boom truck functionality will follow in a future update.
The smartphone app is available now for free in both the App Store (Apple) and Google Play (Android) by searching for "Manitowoc Diagnostic Code App."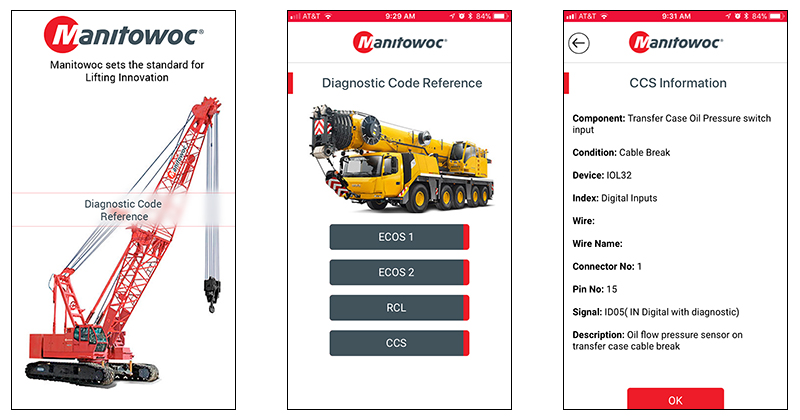 We encourage you to download the app and experience the new technology developed to increase customer ease-of-use and reduce downtime.
As always, Shawmut Equipment's Service Department and factory trained technicians are here to support and help diagnose any issues our customers are experiencing. Give us a call at 800-829-4161.