A-Quick Pick Crane Service Inc, a second-generation family-owned crane, rigging, trucking and storage company, has recently expanded their fleet with one of Grove's newest all-terrain cranes, the Grove GMK5250XL-1.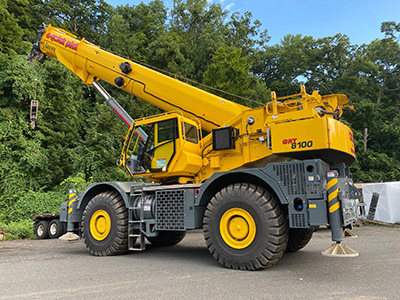 A-Quick Pick Crane Service was founded in 1984 by George Schrade who started the company with one 17-ton boom truck in Shelton, CT purchased from Shawmut.  At the start of the company George was able to target and fill a market no one else was servicing.  His son Scott comments, "Most companies at the time only used 8-hour minimums required to rent a crane.  My dad offered 'quick picks' not requiring an 8-hour minimum".  The company is currently onto their second generation with three of George's children; Scott, Jim, and Kaitlin, helping run the business.  Both Scott and Jim started at their family company as operators giving them a well-rounded knowledge of the industry.  The company has quickly grown and expanded over the years with the crane fleet currently consisting of over 30 cranes, ranging from 17-ton to 400-ton cranes with a vast majority from Shawmut Equipment.  These cranes range from rough terrain, all-terrain, boom trucks, hydraulic trucks, tower, and crawler cranes allowing for them to support the needs of a diverse customer base. 
The newest addition to A-Quick Pick Crane Service's fleet, the Grove GMK5250XL-1, a 300-ton all-terrain crane, features the longest boom on 5 axles.  The impressive boom length combined with Grove's strong load charts and excellent maneuverability has this crane pushing boundaries in the industry.  Some of the aspects that A-Quick Pick Crane Service looks at when deciding what crane to add to their fleet are versatility and strong load charts which is shown in this most recent model that has been added.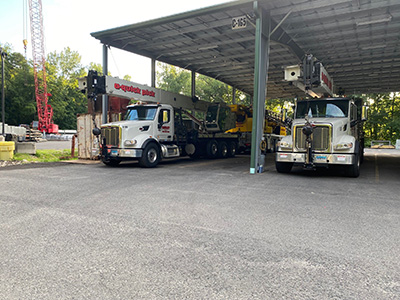 A-Quick Pick Crane Service has been a valued customer of Shawmut Equipment over the years.  When asked why they have chosen to stick with Shawmut Equipment, President Scott Schrade says, "it is because of Shawmut Equipment's quick service and support."
A-Quick Pick Crane Service currently operates out of Derby, CT where they moved in 2013.  They offer services primarily in Connecticut, Massachusetts and New York with 24-hour service from small quick picks to larger commercial jobs. 
As the company continues to grow, they plan on keeping it in the family with the third-generation already starting to enter the business. 
Head over today to check out A-Quick Pick Crane Service's website. 
https://www.aquickpickcrane.com/