New GMK5250XL-1: Longest Boom On 5 Axles!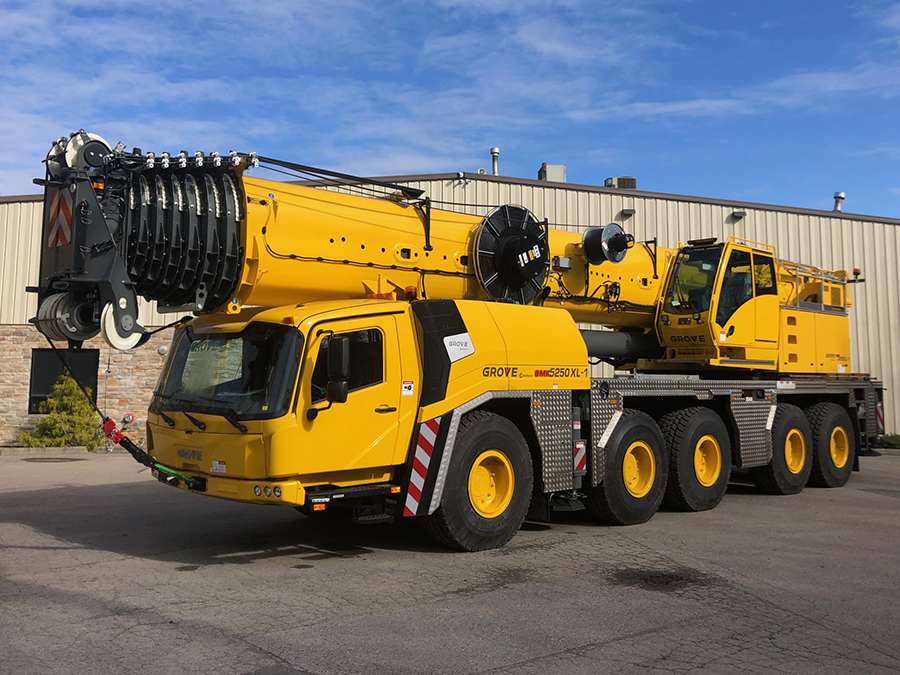 Shawmut accepts first of the innovative new Grove GMK5250XL-1 all terrain cranes into inventory.
With the longest boom and high capacities combined with a small footprint and excellent maneuverability, the new GMK5250XL-1 pushes boundaries. The Grove single engine design with latest emission levels reduce the operating costs due to 30% lower diesel consumption compared to previous generation models.
Superior Strength and Reach
Boosting overall reach is a 58.4 ft hydraulic swingaway jib, which can be extended with either a 26 ft boom extension or a 26 ft jib insert or a combination of both, for a total possible jib length 111 ft. For optimum usage, the full jib can also be operated while the crane is working with its full 257.5 ft boom length extended. Another beneficial feature of the jib is its ability to offer increased offset of up to 50° compared to a typical 40° offset on other Grove cranes in its class.
Convenient Transportation Logistics
Logistic benefits due to interchangeable counterweight slabs and self-rigging auxiliary hoist. Once on the jobsite, the crane can be moved while carrying its full counterweight of 176,300 lbs, and its ability to travel in this configuration saves valuable time on the job that would otherwise be taken up with installing and removing counterweight sections. In addition, some of the counterweight slabs are interchangeable with those of the GMK5180-1/5200-1, GMK5250L/L-1 and GMK6300L/L-1. The self-rigging auxiliary hoist eliminates the need for an assist crane during on-site rigging.
VIAB Turbo Retarder Clutch
The Grove five-axle is the first all-terrain crane to utilize a VIAB turbo clutch module, which is used by a number of heavy-duty trucks. It enables wear-free starting and braking, avoids overheating and burning, and reduces fuel consumption to a minimum, adding substantial fuel savings of approximately 30% compared with its predecessor, the GMK5275. VIAB is a turbo coupling and integrated retarder all in one, which means less weight and less space.