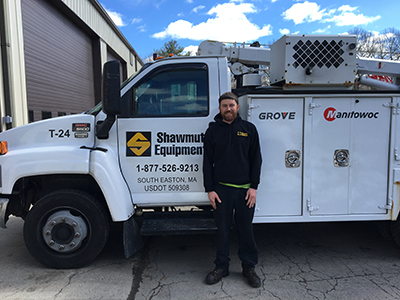 Tim Scott recently passed the GMK All Terrain Crane Service Certification Test at the Shady Grove, PA facility. Tim passed the test with a perfect score. The certification test lasts two days, including both written and practical hands-on testing using cranes and simulators. Prior to the exam, the technicians must complete various courses dedicated to learning the technology and operation of the GMK product line. Congratulations, Tim!
Shawmut is proud to announce that eight of Shawmut's technicians are now GMK Certified. The certification provides the ability to streamline the diagnostic process due to additional information, programs and tools supplied through the training.
The GMK Certified technicians are kept abreast on new equipment that is currently being released into the field through GMK New Technology classes. During these courses, the skills are developed to work on any new modifications or innovative updates to the product line, as well as all new products developed by the GMK team at Grove.
Shawmut takes pride in employing some of the best service technicians. All eight of Shawmut's GMK technicians performed in the top of their classes showcasing their extensive knowledge and understanding of the GMK product. Each of the technicians have years of field experience, bringing their expertise to the customer by diagnosing and repairing their machines quickly and efficiently.