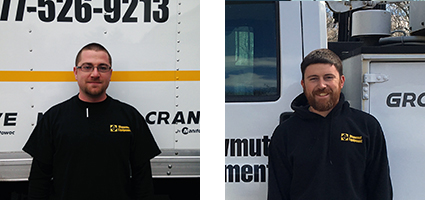 Two of Shawmut's top technicians, Kevin LaPan and Tim Scott, recently completed all Grove courses and passed the two-day Grove Certification test.
The Grove course material ranges from learning basic knowledge of operation, hydraulic & electrical systems to extensive instruction on troubleshooting and calibrating various types of Grove software. In order to complete the certification test, the mechanics must show both written proficiency and technical skills working with the Grove product line, including the new Grove CCS model cranes as well as older model Grove cranes. Completion of the certification provides the ability to streamline the diagnostic process due to additional information, programs and tools supplied through the training.
In addition to hands-on sessions on new Grove machines at the factory, Manitowoc's Shady Grove training facility is equipped with four generations of Grove domestic simulators and a new CCCS equipped immersive operator simulator in order to recreate real problems where they can learn and practice. This provides the technicians the knowledge and troubleshooting ability to correctly and quickly diagnose any issues or overcome obstacles they may encounter in the field.
 
Both of these technicians have had years of field experience working with Grove cranes, either in Shawmut's rental fleet or working closely with our customers to successfully diagnose and repair their machines as quick as possible to reduce any downtime.
Congratulations Kevin & Tim!