A & A Crane & Rigging, LLC, a family-owned full-service crane, rigging and trucking company, recently expanded their fleet by adding two new next-generation machines. The innovative new National NTC60XL and class-leading Grove TMS9000-2 were carefully chosen by A & A Crane with industry popularity and demand in mind.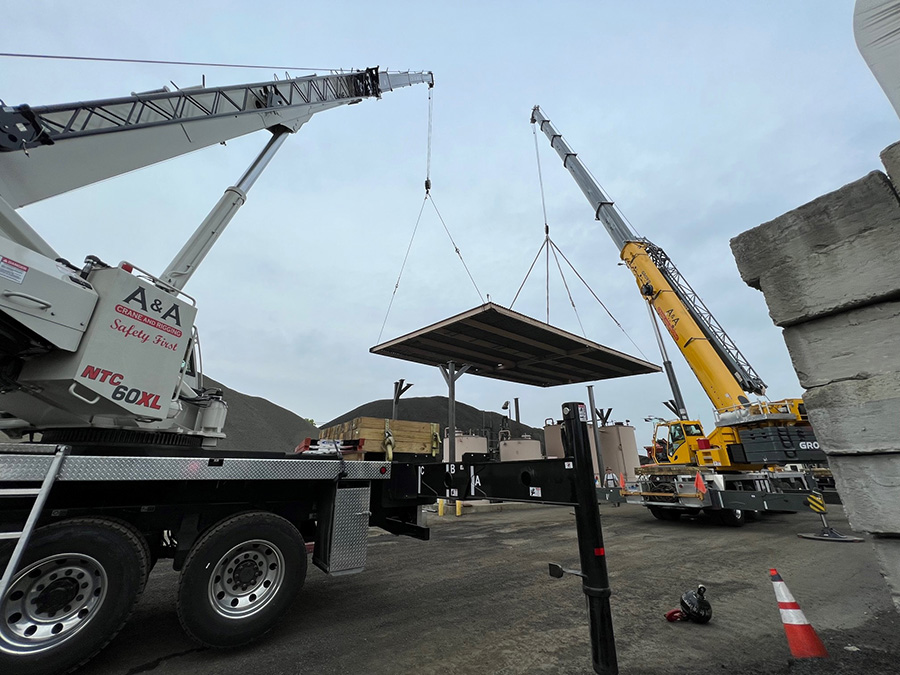 "I let the industry lead the way. There was a demand to fill gaps in the crane rental industry with those size machines." says owner John Fernandes.
A & A Crane & Rigging started in 2004 with one 23-ton boom truck, which quickly grew into 17 cranes in 17 years, adding at least one crane a year to the expanding fleet. The fleet is comprised mostly of 55 and 60 ton cranes, which offer strong load charts, long booms and fast set up, which are ideal for tree, residential or commercial jobs. The new machines will help A & A Crane continue to support their diverse customer base   while meeting   the needs of the growing crane rental market. 
The new National NTC60XL 60-ton boom truck has the best load chart and reach combination in its 60-ton class. It features a "long and strong" 151 ft five-section full-power boom, innovative features to add to jobsite flexibility  and 16,000 lbs. of hydraulically removeable counterweight allowing it to make heavier picks.
In addition, A & A Crane added the more powerful and lighter new Grove TMS9000-2 to their lineup of cranes. The popular 115 ton hydraulic truck crane offers easy and fast jobsite set up with wireless rigging remote and  low gross vehicle weight for easy roadability while maintaining its capacity and strength. It also features a 169 ft 5-section greaseless main boom with TWINLOCK boom pinning system.
A & A Crane & Rigging has been a valued customer of Shawmut Equipment for many years. Fernandes  comments, "I've always been loyal to Shawmut Equipment. We've only ever bought cranes through them, and we've never strayed away from the National or Grove names. We still have the first crane we purchased from Shawmut - which still runs in great condition."
A & A Crane & Rigging operates out of Bridgeport, CT and primarily services Connecticut, Massachusetts, New York and Rhode Island. A & A Crane specializes in 24-hour same day or next day crane services with a professional and knowledgeable team. "We pride ourselves on our service. We get a lot of last-minute calls and the quick setup and easy roadability of our cranes makes it easy to accommodate our customers."
As A & A Crane continues to grow, the next generation has entered into the family business. This includes John's youngest son, Andrew, who has impressively become the youngest operator in the state of Connecticut.
Head over today to check out A & A Crane and Rigging's website. There is no job too big or too small! https://www.aacraneandrigging.com/crane-services/4510099