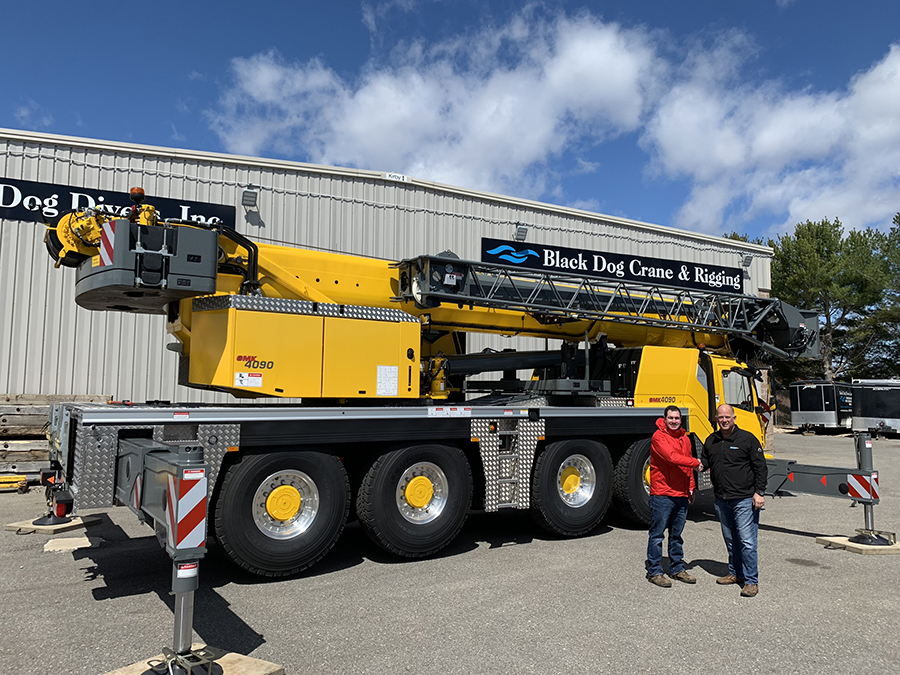 Black Dog Crane & Rigging recently accepted delivery of their new Grove GMK4090, 100 US ton hydraulic all terrain crane. The new GMK4090 combines best-in-class taxi load charts with compact dimensions, offering strong lifting abilities with easy transport and jobsite maneuverability.
Black Dog Crane & Rigging is a full-service crane rental company out of Portsmouth, NH, offering services throughout New England and New York. Black Dog offers a large array of services in addition to crane rental, such as general construction, bridge and barge support, pile driving support and facility maintenance. The versatility of the new GMK4090 will allow Black Dog Crane to utilize the machine on various sites, allowing them to continue to provide the highest level of service and safety to their customers.
The development of the new GMK4090 was based upon Manitowoc's recognition of the increased customer demand for a light-weight, flexible taxi crane in the popular 100-ton class. The new crane features innovative technologies, while continuing to retain the popular items of its predecessors, the GMK4080-1/GMK4100B.
The GMK4090 is equipped with a 167 foot six-section MEGAFORM main boom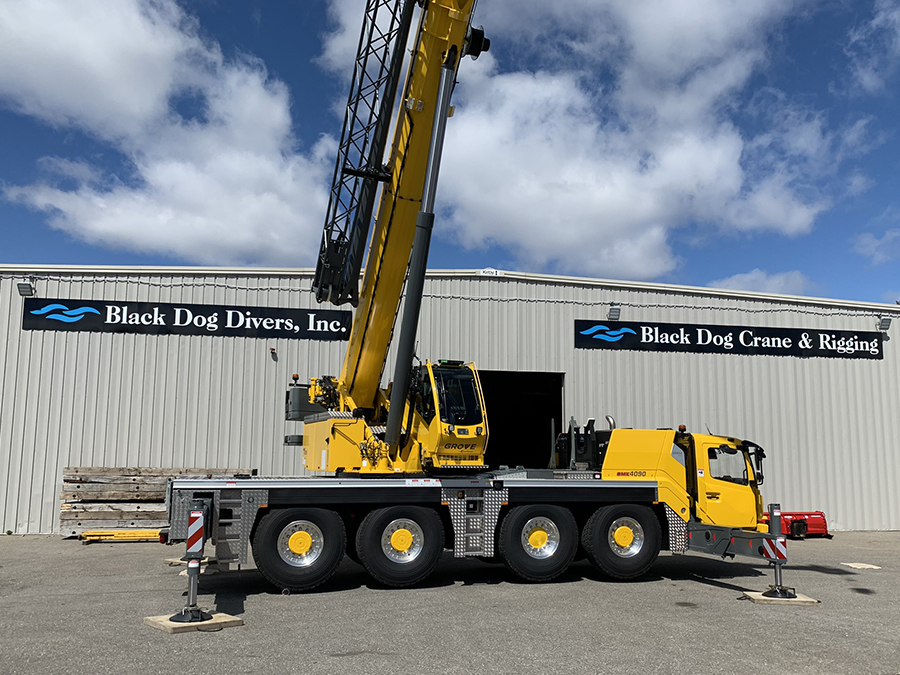 with the Grove TWIN-LOCK boom pinning system. An optional jib can add an additional 69 ft, boosting the crane's reach. The crane features compact dimensions, with a narrow 8.37 ft width, so it can easily access and maneuver within the tightest of job sites. It has a minimum tailswing of only 11.58 ft, so it stays within the maximum outrigger width. It is powered with a single engine concept, reducing fuel costs and features the new Crane Control System "CCS," an easy-to-use operating interface, decreasing operator learning time and increasing commonality across the product line.
Andreas Cremer, global product director of Grove all-terrain cranes comments on the development of the new model: "We spoke to many customers when designing this new crane to fully understand their needs and desires for cranes in this class," Cremer explained. "We had to ensure that the GMK4090 would be extremely versatile in travel, set up and lifting options. This is The Manitowoc Way in action, and the result is a new crane that should help crane owners increase efficiency and utilization in their fleets."