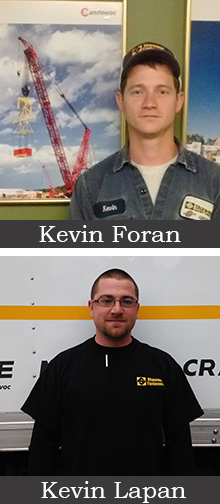 We would like to congratulate two Shawmut technicians, Kevin Foran and Kevin Lapan, on passing the challenging week-long Manitowoc CANBUS certification test. The certification test can only be attempted after completing six demanding courses. Kevin Foran passed the certification test with a perfect score of 100%, which is extremely rare and impressive. Shawmut is proud to employ two of the best mechanics in the industry. Both Kevin Foran and Kevin Lapan have years of experience working on Manitowoc cranes, as well as the other Manitowoc product lines.
The program combines classroom learning, extensive hands-on training, simulations and labs. Throughout the CANBUS curriculum, technicians study all aspects of the machines in depth, including but not limited to: crane schematics, operational carbody and upperworks systems, electrical and hydraulic systems and RCL and wireless systems. The curriculum covers all style CANBUS machines.
The certification helps develop troubleshooting techniques and procedures that can be used in the field, and prepares the technicians with the knowledge and tools to quickly and correctly diagnose and fix CANBUS equipped cranes. The test requires the technicians to build crane circuits and troubleshoot simulated crane faults based on the knowledge learned over the previous courses. In order to pass with a 100%, the student must repair 30 total faults and complete all 10 random crane circuits.
Certified technicians will attend New Technology courses to keep up-to-date and informed on any current and upcoming CANBUS systems.
Congratulations to Kevin Foran and Kevin Lapan on their recent achievements!