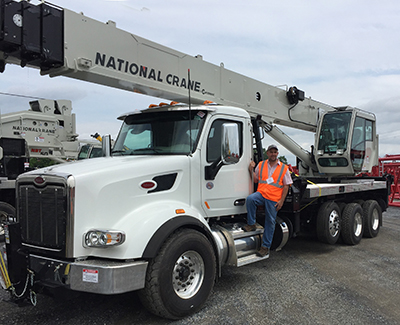 Shawmut Equipment would like to thank Distinctive Tree Care out of South Windsor, CT for their recent purchase of a new 2018 National NBT45127-1, 45-ton boom truck. Jason Yerke, owner of Distinctive Tree Care, is a graduate of U-MASS Amherst with a degree in Arboriculture. Jason founded his Connecticut based company 21 years ago, starting out with only two employees. Over the years the company has thrived and grown to employ over 30 experienced employees. Distinctive Tree Care has also expanded geographically and now services both Connecticut & Massachusetts, while continuing to keep the main focus on offering customers the highest level of workmanship, professionalism, and equipment.
National Crane has built the new NBT45127-1 specifically for companies like Distinctive Tree Care. The National NBT45127-1 offers a 127 ft five-section full power main boom, out and down outriggers, an impressive maximum single line pull of 11,250 lbs., boom elevation of -10 deg to +80 deg, air conditioning, 360-degree continuous rotation with glide swing, new graphic Rated Capacity Limiter (RCL) with an integrated Work Area Definition System (WADS), and many more innovative features. Jason's boom truck was customized specifically for the tree removal and pruning industry, including options like an internal boom length reel, wireless A2B switch, and back up camera. The crane is mounted on a new 2019 Peterbilt 567 chassis utilizing the new Eaton ULTRA SHIFT PLUS automated transmission. The axle layout was tailored to overcome steep and uneven terrains, while still meeting the strict roading regulations in Connecticut and surrounding states.
Shawmut Equipment looks forward to servicing Distinctive Tree Care as their local National Crane Dealer.