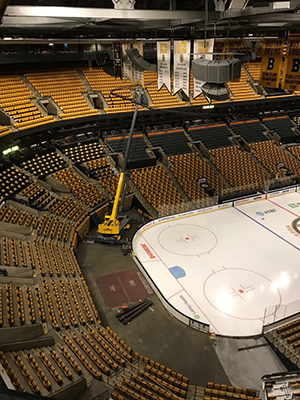 A Grove RT650E aided in the successful completion of the TD Garden Expansion Project in Boston, MA that concluded in January of 2019. North American Crane and Rigging, LLC, with Capco Steel Erection, worked to expand the amount of usable space throughout the well-known arena located in the heart of Boston.  
The RT650E, a 50 US ton rough terrain crane, helped overcome various obstacles that were discovered when planning the steel erection and bracing project. Analyzing the size of the crane was crucial when determining their equipment needs. The crane had to be brought inside the building, through the existing doorways. The RT650E's compact dimensions and a width of only 10 ft allowed North American Crane to beat the challenging width restriction of 10 ft 9 inches.
The small footprint of the RT650E, with maximum outriggers span measuring just 22 ft 6 inches, fit between the boards of the hockey rink and the start of the stands, enabling the use of the crane on full outriggers.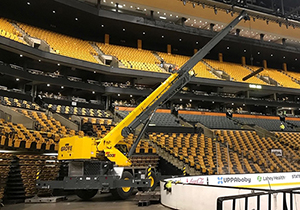 The RT650E is extremely easy maneuver with all-wheel steer, making it easy for the contractors to move the crane throughout the arena during the project. The combination of the capacity, compact footprint and ease of transport allowed the RT650E to exceed expectations and keep the one-month job on schedule.  
The Grove RT650E is equipped with 105 ft four-section main boom and a 51 ft swingaway extension, giving the contractors an overall tip height of 162 ft to utilize.