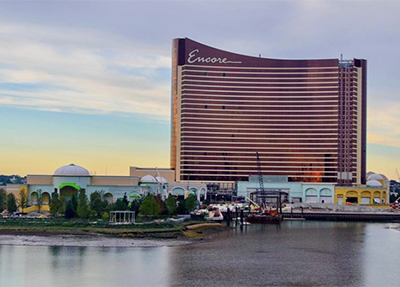 Alley Cat Crane, a full-service crane company out of Quincy, MA, was hired to install four trees inside the lobby of the new Encore Boston Harbor in Everett, MA that just opened June 23. The job was presented with extremely strict restrictions. By combining his years of expertise with careful planning, Alie Shaughnessy, owner of Alley Cat Crane, decided on a Grove YB4409-2, 9 ton dual fuel industrial crane. The unique dual fuel option, compact dimensions and light machine weight were all major factors contributing to the choice.  
Since the job was inside the casino, a diesel/gas machine could not be used. The innovative duel fuel option on the YB4409-2 provided the ability to use propane, controlling the release of emissions inside the building.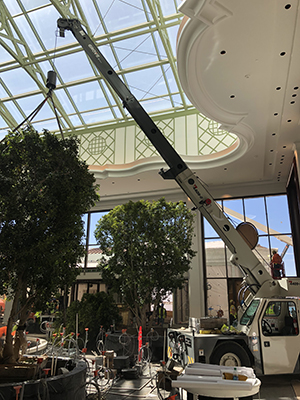 Additionally, there were various size and weight restrictions. The machine needed to be able to fit through a tight doorway of approximately 7 feet wide and 9 feet tall. The YB4409-2's compact dimensions of just 6 feet 5 inches wide and 7 feet 3 inches tall allowed for smooth entry into the casino. The job required the crane to be set up on a deck, adding weight restrictions to the list of machine requirements. The deck could not support more than 20,000 lbs., so the YB4409-2 snuck in under the weight limit with a GVW of just 17,683 lbs.
It was difficult to find a machine that could meet all of these conditions, while still having enough capacity to make each pick. The four trees that needed to be moved weighed about 5,000 lbs each. This caused the YB4409-2 with 18 foot radius to near its max capacity of 5,400 lbs., so each pick had to be made over the front of the crane.
The YB4409-2 proved to be an overwhelming success and made a complicated job manageable, which was unanimously agreed upon on the jobsite.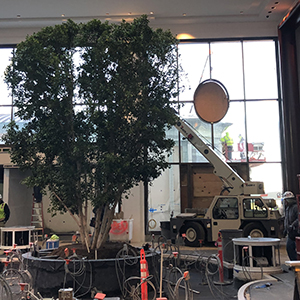 "The crane worked out perfectly. We couldn't have chosen any other crane for this particular job. One of our mini-cranes didn't meet the capacity requirements to make the pick and any of our city cranes couldn't fit inside the building. No other crane could have done the job," said Alie.
Alley Cat Crane, Inc. has been servicing Boston and the New England area since 2012. In additional to their fleet of city cranes, Alley Cat also has a division called Boston MiniCrane. Through this division of the company, Alie introduced Jekko MiniCranes, compact crawler cranes, to the New England area in early 2013.