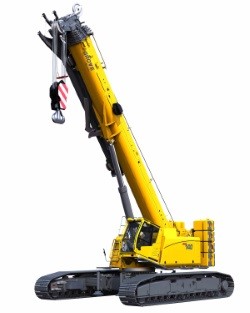 Manitowoc is excited to announce the introduction of the new Grove telescopic crawler model, the GHC140.
This new model features a 171 ft six section pinned boom with a maximum capacity of 140 US tons. When configured with the 49.3 ft. offsettable bi-fold swingaway, it has a maximum tip height of 229.7 ft.
Designed to operate out of level up to 4°, the GHC140 will feature best in class 1.5° load charts. The assembly of the GHC140 is fast and simple. It is fully self-rigging and can be transported in four to five loads.
The GHC140 will be added to the current line of GHC products, including the GHC30, GHC50, GHC55, GHC75 and GHC130.
Stay tuned for more information on the new Grove GHC140.