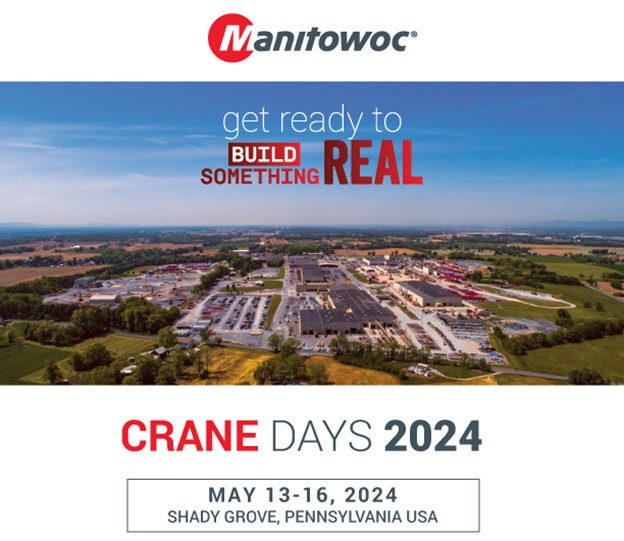 Experience first-hand the latest in product innovation and solutions to help bring value to your business!
We can't wait to welcome you and your customers to tour our Shady Grove facility, view our exciting new products, and experience hands-on operation of our cranes. You'll also have the opportunity to network with Manitowoc leadership and product experts.
The event will be offered on two separate dates.
- Group 1: Arrival Monday, May 13, 2024 – Departure Tuesday, May 14, 2024
- Group 2: Arrival Wednesday, May 15, 2024 – Departure Thursday, May 16, 2024
(Preview the itinerary below.)
Don't wait... space is limited! The deadline to register is December 1, 2023!
PRELIMINARY ITINERARY
MONDAY, DAY 1 - Group 1
Morning
Guest Arrivals
1:00 PM – 5:00 PM
Optional Entertainment/Activity
5:00 PM – 9:30 PM
Cocktail Reception, Welcome Address, Dinner & Entertainment
TUESDAY, DAY 2
7:30 AM -8:00 AM
Breakfast
8:15 AM – 11:30 AM
Product Launch Presentations, Demos, Factory Tours
11:30 AM – 12:45 PM
Lunch
1:00 PM – 5:00 PM
Product Launch Presentations, Demos, Factory Tours
5:00 PM
Event Ends – Attendees Depart
WEDNESDAY, DAY 3 – Group 2
Morning
Guest Arrivals
1:00 PM – 5:00 PM
Optional Entertainment/Activity
5:00 PM – 9:30 PM
Cocktail Reception, Welcome Address, Dinner & Entertainment
THURSDAY, DAY 4
7:30 AM – 8:00 AM
Breakfast
8:15 AM – 11:30 AM
Product Launch Presentations, Demos, Factory Tours
11:30 AM – 12:45 PM
Lunch
1:00 PM – 5:00 PM
Product Launch Presentations, Demos, Factory Tours
5:00 PM
Event Ends – Attendees Depart
Questions? Contact ashley.soverns@manitowoc.com