The Potain Igo T130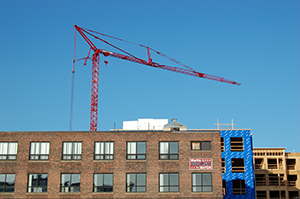 played a key role in building the new 105 contemporary residential condominiums in South Boston, MA. The building, known as PORT45, will include 5 townhouses, a 109 space parking garage and 3,400 square feet of retail space located on the ground floor. Some of the amenities at PORT45 will include concierge services, a gym, common spaces, charging stations for electric vehicles, private outdoor spaces and a bicycle sharing program.
Shawmut Equipment supplied Turnkey Lumber Corporation of Lunenburg, MA with the Potain Igo T130, an 8.8 US ton self-erecting crane used to complete the project.
The Igo T130 was chosen for various reasons. The long reach and small footprint enabled them to work around a tight city jobsite. The remote control allowed the operator move throughout the structure while placing loads.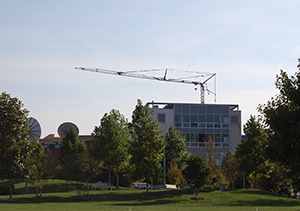 The Igo T130 was erected on the second-floor courtyard, allowing the crane to service the Port45 massive footprint and maximize building space.
The Potain Igo T130 offers variable mast heights for a variety of different applications. The maximum radius of the Igo T130 is 164' with a maximum hook height of 122', making the machine a versatile addition to any jobsite.