This week, Shawmut attended the 2019 International Construction & Utility Equipment Expo (ICUEE) show, which is hosted in Louisville, Kentucky. Many major manufacturers in the industry, including Terex Utilities and Manitowoc Cranes, showcased innovative solutions and new equipment designs to customers and industry leaders.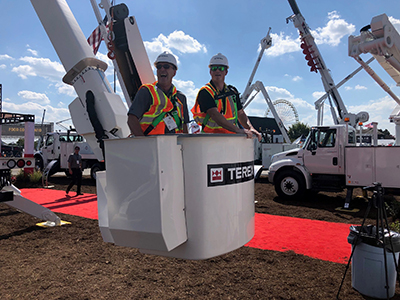 Terex Utilities offered live equipment demonstrations of new product ideas, focusing on advanced industry solutions. Terex revealed a new family of articulated and telescopic transmission aerial devices, welcoming industry and customer feedback. The Transmission TL series is comprised of three models, offering wider versatility in chassis options as well as working height. Additionally, various digger derricks and aerial devices were showcased that offer both high productivity and cost efficiency. Terex comments, "Customers will get a sneak peek of a new solution with technology that delivers actionable information, which is designed to help electric utilities improve overall fleet performance."
Manitowoc Cranes showcased three of its ground breaking new models that were designed to outperform their competitors in the utility sector. Grove displayed its Grove GHC30, a 30 US ton telescopic boom crawler crane outfitted with pole claw and auger attachments. The low-ground bearing pressures, excellent gradeability and variety of specialty attachment options allows for great versatility and efficiency on jobsites. National also displayed two of their new models, the NTC55L and NBT30H-2 TM. Labeled the new "truck crane replacement", the National NTC55L combines the easy maneuverability of a truck crane with the roadability of a boom truck, providing an innovative new product to the utility industry. The NBT30H-2 TM was engineering specifically for the utility industry, with a 69 foot boom mounted on a "tractor" style chassis. This model can be used to haul additional materials to and from the jobsite, while still maintaining capabilities to accomplish everyday taxi crane work.