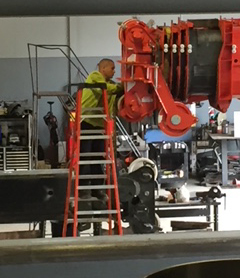 Matt Whitcomb recently passed the GMK All Terrain Crane Service Certification Test at the Grove Shady Grove, PA facility. The certification test lasts two days, including both written and practical hands-on testing using cranes and simulators at the manufacturing facility. Prior to the exam, the technicians must complete various week-long courses beginning with broad topics such as crane theory and operation and ending with very detailed courses on the control system and maintenance and repair of the GMK product line specifically.
The test certifies that the technician has the skills and expertise to troubleshoot, diagnose and repair any pneumatic, hydraulic, electrical, or electronic control system utilized in GMK cranes.
Shawmut takes pride in employing the best service technicians in the crane industry. Nine of Shawmut's technicians are now GMK Certified. Each of the technicians have years of field experience, bringing their expertise to the customer by diagnosing and repairing their machines quickly and efficiently.
The GMK Certified technicians are kept abreast on new equipment that is currently being released into the field through GMK New Technology classes. The New Technology course focuses on the innovative new designs and enhancements of the GMK product line.
Congratulations, Matt!