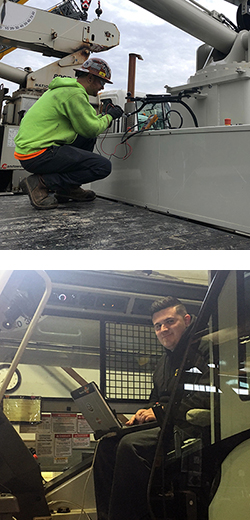 Two Shawmut technicians, Kevin Doughty and Sean Kavanaugh, recently passed the National Certification test with excellent scores!
The National curriculum has been designed to encompass information on all past and present National machines and provides an in-depth look into crane operation, as well as the hydraulic and electrical systems used in the cranes. Students gain an understanding of components and systems through the intense study of the system schematics.
The certification test ensures that the technician has the knowledge and expertise to troubleshoot and diagnose all National brand products both effectively and efficiently. The test, lasting two days, includes both written and practical hands-on testing using cranes and simulators. Hands-on testing can include troubleshooting / diagnostics of any or all of the following: basic and/or advanced electrical, basic and/or advanced hydraulics, programming, systems calibration and mechanical operations.
Congratulations, Kevin & Sean!