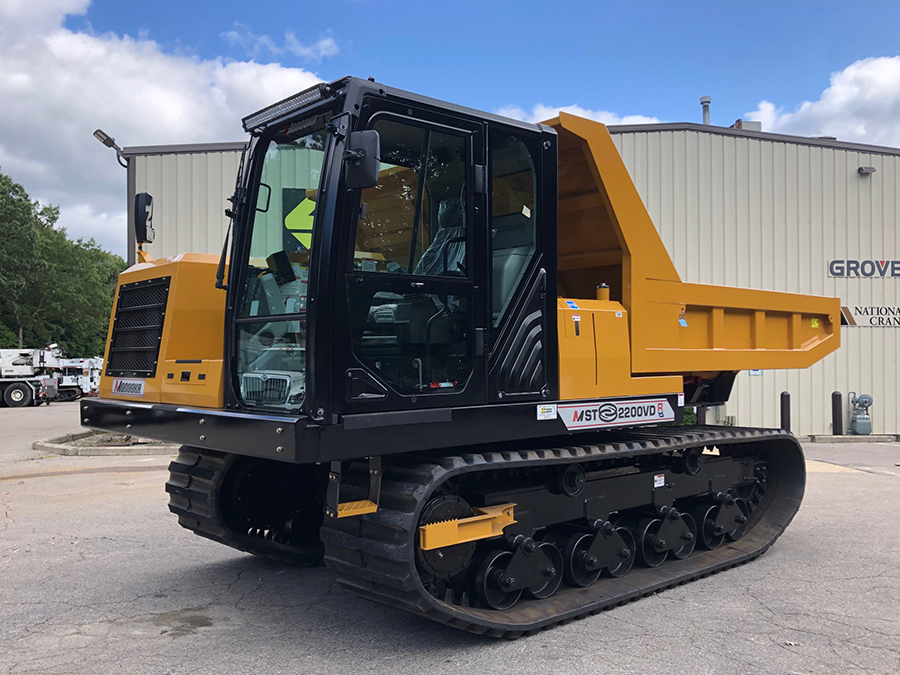 Shawmut just took delivery of two new Morooka MST2200VDR rotating rubber track carriers into its fleet. The new model combines the quality of the top-selling MST2200VD with brand new innovative features increasing versatility on jobsites and providing more precision in material placement. The units will be available to sale or rental immediately.
Morooka responded to customer demand for greater side-dump management by creating the new MST2200VDR model featuring a 360° revolving upper structure. The new model makes maneuvering in tight spaces easy when carrying loads and improves side-dump accuracy. The model carries a maximum load of 22,000 lbs and is equipped with enhanced hydraulics coupled with the Caterpillar 7.1 Tier 4F 250 h.p. engine.
The new machine design includes a spacious, air-conditioned ROPS Certified cabin with a single handle rugged joystick controls, increasing operator ease-of-use. Located in the cabin is a seven-inch Danfoss Plus-1 video display providing up-to-date performance data to the operator, increasing operation and jobsite safety. Also, the model features a back-up camera and heated remote mirrors.
The two new units are immediately available for sale or rental.
Full specifications and dimensions of the new MST2200VDR model.
Call Shawmut's Sales Department for more information about sales or rentals.